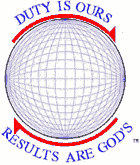 church state oops
September 11, 2001 God's role Scriptures that warn a Nation
Biblical Examples of God's national discipline
healing Sin? Thousands
Parallels Showing God's Hand Working Through Other's Evil Acts
and Why We Bear Responsibility as Well

Hijackers
Conspirators

Judas
Jewish Leaders
Pilate
Herod

Joseph's Brothers

Each made purely evil choices

Killed Thousands

Killed Christ

Purposed to kill Joseph, instead they sold him into slavery

God Uses Evil Choices for His Purposes

Reminds the rest of us of our mortality and need for salvation

The perfect sacrifice for salvation

To allow Joseph to get into a position in which he could save people from drought

Needed because of our own refusal to seek Him

Only way for salvation
Needed (Acts 4:12)

Needed to accomplish salvation

Each of God's Purposes are for the good of His people.

So, why are we responsible as well for the evil acts?

Our refusal of seeking God on our own leads to His taking down the "hedge" of protection in order to call us back. If we had not strayed, His "hedge" would still be in place, protecting His people, including those who unfortunately have died. (Isaiah 5:6)

We each have sinned and fallen short of the kingdom of God. Christ is the only way to salvation and the perfect sacrifice. He willingly died on the cross to save us. If we had been pure, Christ wouldn't have needed to die.

Simply because it was the way God chose Joseph to save the people who didn't have the needed foresight. Joseph is a "type" of Christ, prophetically paralleling Christ's life thousands of years later.

We should appreciate those who unfortunately died in airplanes and on the ground as countless people become saved with spiritual renewal and seeking God. May God have mercy on their souls.

We should greatly appreciate Christ's sacrifice.

The Egyptians and surrounding areas appreciated Joseph's vision and food sustenance.

So, we should thank God for another chance for salvation.
With this reasoning, we find that God loves us and works things out for our best interests. It now is easier to see how we can embrace a God Who's Word says: Amos 3:6 When a trumpet sounds in a city, do not the people tremble? When disaster comes to a city, has not the LORD caused it?

1Corinthians 11:31 But if we judged ourselves , we would not come under judgment. 32 When we are judged by the Lord, we are being disciplined so that we will not be condemned with the world.

Could it have been worse? Of course. We know of 2 planes that did not make it to their intended target, one had mechanical failure and never left the ground. There may have been more. It is as if God Almighty prevented Satan from going any further. This is reminiscent of Job-

Job 1:8 Then the LORD said to Satan, "Have you considered my servant Job? There is no one on earth like him; he is blameless and upright, a man who fears God and shuns evil." 9

"Does Job fear God for nothing?" Satan replied. 10 "Have you not put a

hedge around him and his household and everything he has? You have blessed the work of his hands, so that his flocks and herds are spread throughout the land. 11 But stretch out your hand and strike everything he has, and he will surely curse you to your face." 12 The LORD said to Satan, "Very well, then, everything he has is in your hands,

but on the man himself do not lay a finger."

Then Satan went out from the presence of the LORD.

First, God will allow Satan only so much damage he can inflict. God is still in control. Second, Job had a hedge around him as he was a godly man. There is that hedge again. We need to be godly, like our forefathers.

We have lost some great people. We have lost some freedom. How much more must we lose before we humbly turn back to Almighty God? Let us get on our knees in humility and repentance and if God repeats what He has done in the past, we will be victorious in whatever battle we may enjoin.
Copyright © 2001, Dio, Inc.
Dio, Inc.
P.O. Box 1811
Pelham, Al 35124